Fred Flasher's Canoe Camping Trips, LLC

PO Box 114
Wilton, WI 54670
(608) 435-6802
fredf@canoegrue.com

Gather a group of people.
Decide on a date and several alternates.
Choose a group leader or someone who will be in charge of communication, collecting payments, and signed releases.
E-mail, phone, or write to us to discuss availability of your dates, river options, and deposit amount.
Make sure everyone is familiar with our cancellation and legal policies listed below.
Send in the required deposit to hold your date.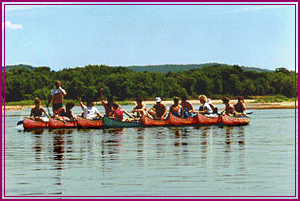 A group bands together during a float down the Wisconsin River.



A youth group relaxes before dinner on the Flambeau River.
We provide you with


Old Town Discovery 169 canoes (2 people per canoe)
Paddles
PFD's
Three very filling fresh food meals per day
Expert guidance and river tales, and if it's a clear night you might learn a little about the stars. Just ask Fred.

Our trips are meant to be participatory, so you're encouraged to get involved in the entire canoeing and camping experience!
See the 'What to pack' section of this site for information about what you should bring.

Our cost to you is $45.00 per day per person for a flat-water trip, $50.00 per day for a whitewater trip.
That means that a 2-day flat-water trip costs $90.00 and a 3-day flat-water trip costs $135.00 per person.
A 2-day whitewater trip costs $100.00 and a 3-day whitewater canoe trip costs $150.00 per person.
Prices include canoes, paddles, pfd's and meals. You need to supply your own beverages and bottled water.

We also have tents, sleeping bags, and canvas Duluth packs available for rental.
Please call for prices and availability.



A bald eagle perches in a tree along the
Black River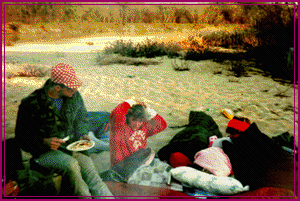 Waking up with the sun on the sandy beaches of the
Wisconsin River.

We begin to prepare for your trip long before the date you have chosen, therefore we need an accurate head count and payment for proper planning of your trip. A $200.00 deposit is required to hold your date. If you cancel your trip before 30 days of the start of your trip, your deposit will be refunded in full. If you cancel up to two 2 weeks before the start of your trip, you will recieve 50% of your deposit. A final headcount and payment in full is due 1 week before the start of your trip. Individuals or entire groups backing out after this point will not recieve a refund.

A full refund will be given if your trip is cancelled due to flood conditions as specified by the National Weather Service. You will have the option to run a different river if flood conditions exist on the river you have chosen.

A canoe adventure provides an excellent environment for your company's team building activities. Consider developing a quality teambuilding experience on weekday company time! Improve communication and camaraderie between your key personnel during a 2-3 day mid-week canoe trip.

Rates are the same as above.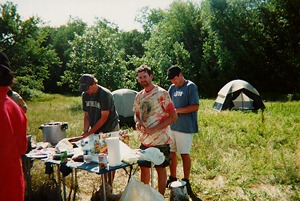 A group makes breakfast on a grassy bank along the lower Wisconsin River.


You will be asked to sign a statement releasing Fred Flasher's Canoe Camping Trips LLC from any loss, damage or injury incurred on your trip. This form will be available to print from this site soon.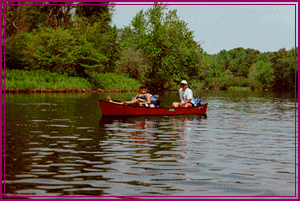 A couple takes a casual float down the Black River.